Chat from Microsoft Teams is now available for Windows 11 Insider Preview in the Beta Channel. We're also excited to begin rolling out one-to-one and group audio and video calling, with many of the features that you've come to expect.
You can create and join meetings. You can toggle your microphone and camera on or off and choose your preferred speakers, mic, and camera with device settings. You can manage meeting information and options.
You can share your screen, see the roster of participants, admit meeting participants from the lobby, chat and see people's video in a gallery view. We're excited to bring this experience to a growing network of people!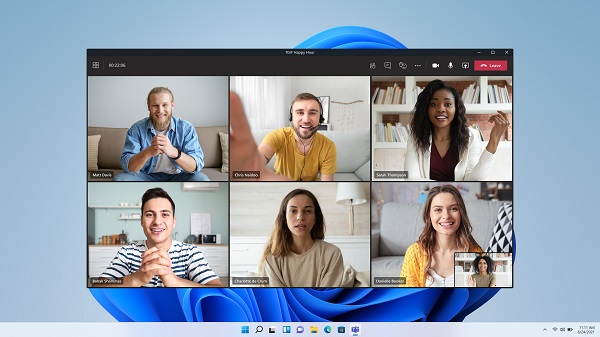 Windows 11 Insider Preview – Build 22000.132 Download
The new Snipping Tool for Windows 11, updated Calculator app, and updated Mail and Calendar apps are rolling out to Windows 11 Insider Preview in the Dev Channel – see this blog post here for details!
Fixes – Changes and Improvements
Search:

Did some work to address a scenario where the recent searches list displayed when hovering over the Search icon in the Taskbar was unexpectedly blank.

Widgets:

We fixed the issue where launching links from the widgets board wasn't always invoking apps to the foreground.
Clicking the widgets icon in the Taskbar should open it on the correct monitor now.

Windows Sandbox:

The Taskbar (Explorer.exe) should no longer repeatedly crash inside of Windows Sandbox.

Other:

Addressed an issue leading to some Insiders experiencing a bug check when attempting to roll back in the previous flight.
Mitigated an issue that was making certain games go unresponsive after pressing the Enter key.
Fixed an issue where the "location in use" indicator icon wasn't showing up in the Taskbar when it should have been.
Windows 11 Known Issues
[REMINDER] When upgrading to Windows 11 from Windows 10 or when installing an update to Windows 11 insider preview , some features may be deprecated or removed. See details here.
We're investigating an issue where on some devices when going to Settings > Windows Update > Windows Insider Program, only the "Stop getting preview builds" option is visible. This prevents Insiders from selecting a channel. We have posted a workaround on Answers.
[BETA CHANNEL] We're investigating reports from Insiders in the Beta Channel where after upgrading to Windows 11, they are not seeing the new Taskbar and the Start menu doesn't work. To work around this if you are impacted, please try going to Windows Update > Update history, uninstalling the latest cumulative update for Windows, and then reinstall it by checking for updates.
Start:

In some cases, you might be unable to enter text when using Search from Start or the Taskbar. If you experience the issue, press WIN + R on the keyboard to launch the Run dialog box, then close it.
System and Windows Terminal is missing when right-clicking on the Start button (WIN + X).

Taskbar:

The Taskbar will sometimes flicker when switching input methods.

Search:

After clicking the Search icon on the Taskbar, the Search panel may not open. If this occurs, restart the "Windows Explorer" process, and open the search panel again.
Search panel might appear as black and not display any content below the search box.
On pen enabled devices, apps may not launch from the Search panel. If you experience this issue, please log out and back in to resolve the issue.
Settings: