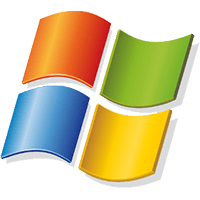 Windowslay is the single best place to download Windows XP. We provide the original Windows XP ISO file (Copy of DVDs). You do not need any original Windows XP DVD or recovery disc.
You can install Windows XP from USB flash drive. You need to download an ISO image from our site and create a bootable USB. Install and activate with your genuine product key.
---
The Latest Version of Windows XP?
Windows XP Service Pack 3 (SP3) offline installer is the latest version released by Microsoft on April 21, 2008. This version of Windows XP Download includes all previously released updates and features by Microsoft. You can download Service Pack 3 separately from the official Microsoft site as well.
Where Can I Download Windows XP for free?
All the editions of Win XP offline installer exe file is available on Windowslay downloads server for free.
These are (malware-free)-clean and untouched ISO files in both 64bit (x64) and 32bit (x86) version. Much faster and secure than torrent download. Win XP ISO files aren't available on any other sites including Softonic, filehippo and CNet.
Windowslay has the same original Official Windows XP ISO images which are also available on MSDN. You Can Download Windows XP ISO using safe and direct links to high-speed Windowslay file servers.
How to Use Windows XP Mode in Windows 7 for Free in 2021?
After releasing Windows 7, Microsoft introduced Windows XP Mode to help Windows XP users to run the full version of WinXP ISO within the Windows 7 operating system. This tool helped many XP users who have not upgraded their Windows XP to Windows 7. We use Windows XP mode in virtualbox to make Windows XP compitable with Windows 7.
Since the Microsoft has removed the direct downlaod link of Windows Xp mode tool from the officia site, it very dificult now to find the XP mode anywhere on internet.
However, you can still use Windows XP for free using the same XP mode tool in 2021, Here's the Windows XP Mode download link below, you can grab a copy.
Before going to learn how to install Windows XP Mode, you have to do a few things:
Download and install the latest version of VirtualBox.
Download and install a file archive tool This tutorial uses 7-Zip.
Downlaod the Windows XP Mode software see below.
1 – Download Windows XP Mode Virtual Hard Disk
Download the Windows XP Mode virtual hard disk.
after downloading the file, don't install it yet! follow the steps bellow before installation.
Right-click on the downloaded Windows XP mode file and select 7-Zip > Open archive > cab from the file menu. See the software interface below…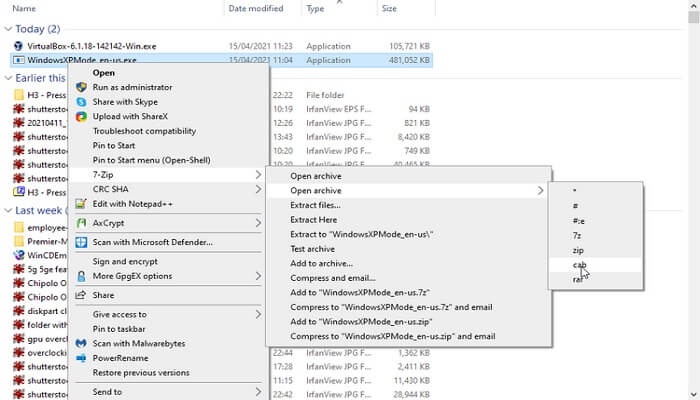 You will find three file in this Window, click on the sources folder.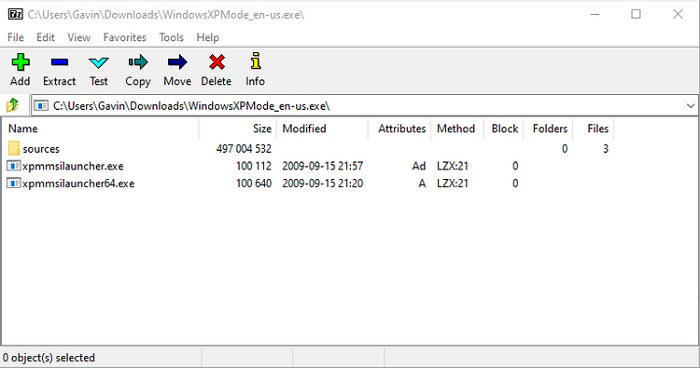 In the Sources folder you will find another three files. see pic bellow…

Double-click to open the xpm. It should look with the same name as the image below.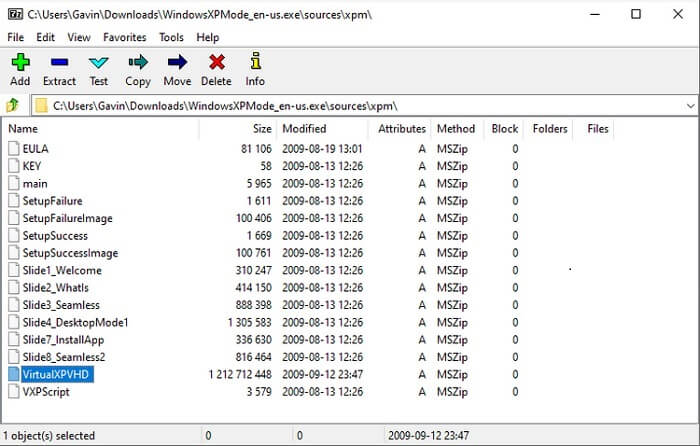 This is the file that you need to create the Windows XP Mode virtual hard disk. These files are currently Read-only. You have to extract these file to a news folder.
On the above menu in the tool bar, choose Extract, Now press the ellipsis icon next to the address bar and select the file location where you want to extract the files.
Now press OK, then OK again to start the extraction process. after extraction the files you can edit these files now.
Rename the VirtualXPVHD by adding the . between the name like this> VirtualXP.VHD. After rename the file immediately change into a virtual hard disk and the icon to boot. You can boot Windows XP mode and can install Windows XP Mode in virtual machine.
2 – Install Windows XP Mode in a Virtual Machine
Virtualbox is a tool which enable you to run Windows XP in Windows 7, If you have not downloaded that tool you can download the latest version of VirtualBox now.
To install the Virtualbox on you PC follow the steps below…
Open VirtualBox. Select New.
Select the Expert Mode, from the bottom of the Create Virtual Machine window.
Now, give a name to your virtual machine.
Assign some memory space to your virtual machine in your system. We recommended you to assign minimum of 512 MB.
Now add the Virtual hard drive that we have extracted above in the step no 1 above (Download Windows XP Mode Virtual Hard Disk) earlier.
In the VirtualBox, under hard disk, choose Use an existing virtual hard disk file. Then, click the folder with the green arrow, Browse the folder that we extracted our files and select VirtualXP, then Open.
After completing the above steps, new virtual machine setup will look like this: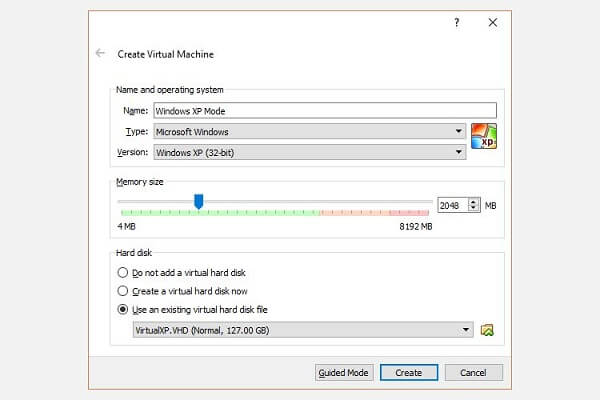 Okay? Click on Create.
3 – Windows XP Mode Disk Settings
Before going to boot your Windows XP virtual machine, you need to change some settings.
On the Setting in VirtualBox toolbar, click on System and check the Boot Order. Uncheck the Floppy, and move it down by clicking the down arrow. Bring Hard Disk on the top in the order (Just like you change boot order in your system BIOS).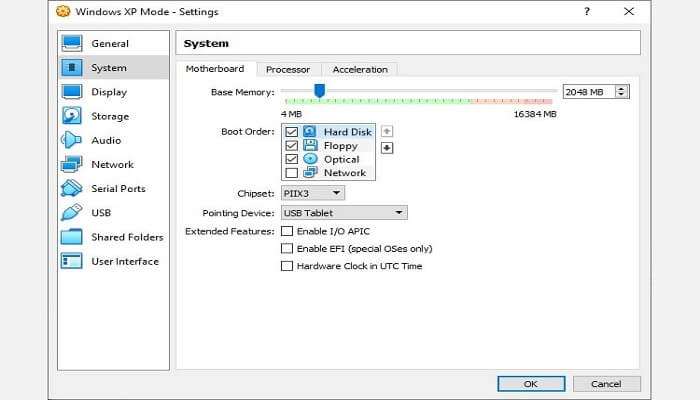 Now Click the Display on the left bar, and increase Video Memory to 128 MB (see pic below).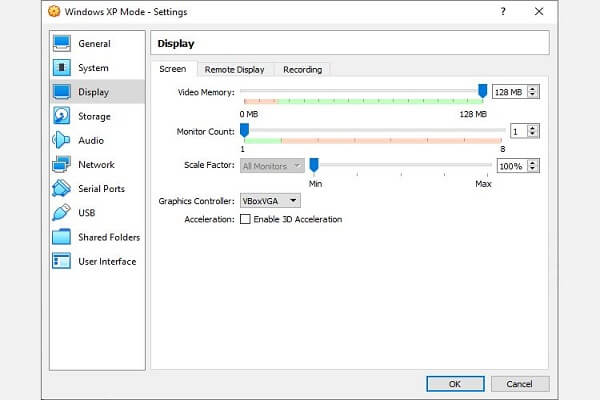 Now you have to make some changes in Network Settings. Click on the Network setting and follow the steps.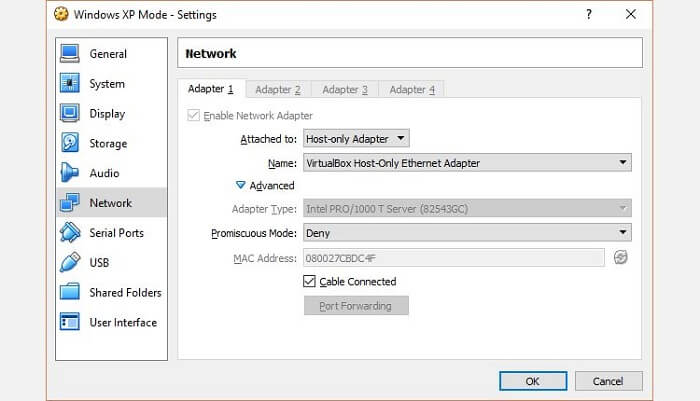 Set Attached to: Host-only Adapter
Set Name: VirtualBox Host-Only Ethernet Adapter
Set Promiscuous Mode: Deny
Check Cable connected
4 – Run the Windows XP Virtual Machine
After extracted the virtual hard disk, creating a virtual machine, and changing the settings, you're ready to start Windows XP Mode Now.
In the main VirtualBox window, Double-click and open the Windows XP mode.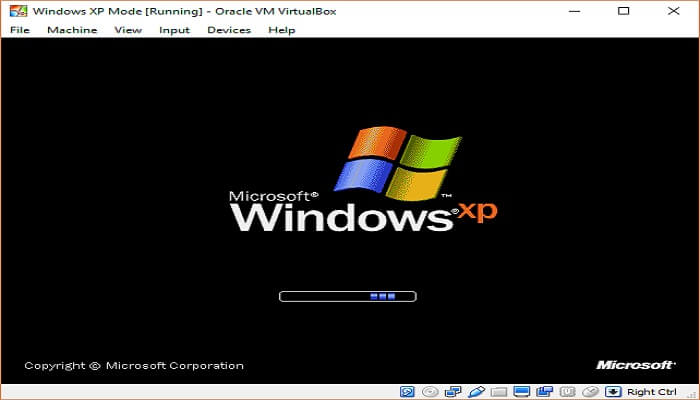 Windows XP Download WinXP ISO- Original Version Full ISO
Download the correct version for your computer. All the popular editions of Windows XP (WinXP ISO) Released by Microsoft are listed below, Simply Click the Link Bellow and download your's favorite edition.
---
Windows XP Product Keys 2021: Reviews & Buying Guide

Want to activate your Win XP? But don't have the license key? Here's the solution to activate with free Windows XP Product Keys.

Windows XP Professional

Download Windows XP Pro x64 ISO w/o product key. Original WinXP 64-bit edition service pack 1 all sata drivers. Official untouched latest version. Safe 2021 install.

Windows XP

Download Windows XP SP3 ISO 32-bit w/o product key. Original Win XP Pro service pack 3 x86 edition all drivers. Official untouched latest version. Safe 2021 install.
---
How to Install Windows XP From ISO File
If you have downloaded Windows XP ISO file and want to install it into your PC, The simple and easiest way to Install ISO file is, by creating a Windows Bootable USB drive.
To create a bootable USB or DVD you need to Download the Rufus and Burn the ISO file to USB/DVD. After creating a bootable USB/Flash drive you can easily Install Windows XP ISO file on your PC.
For the Windows XP USB/DVD installation guide, to read the article simply visit How to create Windows XP bootable USB drive.
---
Frequently Asked Questions
Is Windows XP still available?
No. After 20 years, Windows XP is not available officially but you can still download it from our site, But the support for Windows XP ended on April 8, 2014, by Microsoft. Microsoft also not providing security updates or technical support for Windows XP.
Is it safe to use Windows XP?
Microsoft is not providing Windows XP security patches and updates to protect your computer but you can use free or paid antivirus programs for your computer safety.
Can you use Windows XP in 2021?
After almost 20 years, Microsoft has ended the support and updates for Windows XP. That means that no further patches and security updates will be available for the operating system unless you are a major government.
Can I download Windows XP for free?
Windows XP is no longer sold by Microsoft on its official site also supports and updates are not provided, But you can still download windows XP for free online.
How do I download and install Windows XP on my PC?
Windowslay is the only trusted site where you can download Windows XP. We provide the original Windows XP ISO file (Copy of DVDs).
Can I download Windows XP if I have a product key?
Yes. If you have a valid product key and you want to download windows XP you can download ISO file from Microsoft official website and burn that iso image on USB/Flash drive and then you can install windows through bootable USB.
How do I create a bootable image for Windows XP?
You can easily create bootable image for Windows XP using Rufus software which is available on our site.
Can I install Windows XP from USB?
Yes. Create a bootable USB drive from ISO file. Plug your USB with your PC and when you reboot, by pressing the boot key, the system will start the installation from the bootable USB on your computer.
How do I install drivers on Windows XP?
You can install drivers on Windows XP from the USB or DVD of XP drivers.
Where to Download Windows XP in 2020?
Download Windows XP ISO from Windowslay Only. We host both 64bit and 32bit versions of Windows XP ISO files, ready to download at high speed. These are clean (malware-free), perfect Win XP ISO images for upgrade or clean installation of Windows OS. You will need a valid product key to install any version of Microsoft Windows Download.