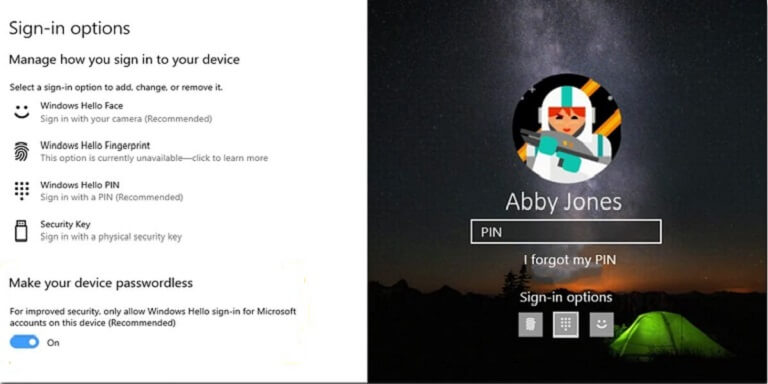 Microsoft is planning to enable Windows 10 to work without passwords. The company has been working for several months to eliminate passwords for Windows 10 and Microsoft accounts.
In the next update of Windows 10, users will be able to log in to Windows 10 and Microsoft accounts without passwords. Those users will now be able to log in to Windows 10 on PC with Windows Hello with Face Verification, Fingerprints, and PIN Code.
In the latest Windows update, the password option has been removed from the login screen. Using passwords in Windows and Microsoft accounts is causing a lot of problems for users themselves. Users use the same password on every website and personal device.
Although there are currently many methods of two-factor authentication available, persuading users to use these methods is not an easy task.
Microsoft says that although the PIN code uses only four digits, it is more secure than a password. One reason for this is that the PIN code is stored on the device instead of being shared online.
Windows 10 protects users' private (key) devices with a trusted platform module (TPM). TPM is a secure chip that stores PIN codes only in the device.
Whether the server is hacked or passwords are stolen, Windows Hello Pin is not affected. Microsoft is trying to get users to adopt two-factor authentication.
Physical keys with basic SMS methods, Microsoft authentication app, Windows Hello, or FIDO2 standard can be used for this. In the Windows 10 May 2019 update, users can set up a Windows 10 PC from a Microsoft account with just one phone number.
Microsoft will allow users to remove the password option from the Windows 10 login screen. Similarly, Microsoft business users will be able to log in to their accounts without a password with security keys.