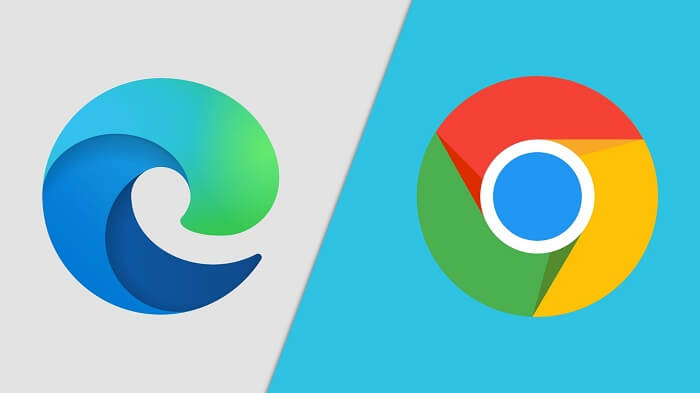 Google Chrome was leading the browsers market and Microsoft Edge is trying hard to beat google chrome. Until recently, Microsoft announced a lot of new features that make Microsoft Windows Edge better than Chrome.
Nowadays, after installing or upgrading the new Windows 10 on your PC, you don't need to look for a browser like Chrome or Firefox, Even if you are previously using one of those because Windows10 updates are automatically delivered the default Edge browser with a lot more features than Chrome and Firefox.
Microsoft Edge has introduced the vertical tab option so you can easily switch your browser menu to the left side of your Windows, you can also switch from new to old layout with just a simple click.
Is Microsoft Edge better than Chrome in Windows 10?
Microsoft Edge has introduced some new features like price comparisons, automatic profile switching, and web screenshot capture tool to help you separate work from leisure activity. Many Windows users want to know is edge better than chrome?
If you are stuck between Microsoft Edge Vs Google Chrome and don't know which default browser you should have on your PC. We have briefly reviewed and compared both Edge and Chrome free Windows browsers and also let you know why edge is better than chrome?
This comparison is based upon (Speed, CPU/Memory Usage, No. of extensions available, and privacy protection). It will help you to decide which default browser suits your requirements.
1 – Memory/Ram Usage
After Windows 10 Fall Creators update many Edge users complained about high memory usage problems but Microsoft has resolved this issue in its Windows 10 20H2 ISO version 2004 released on 10th of Oct 2020, Now the memory usage issue of Microsoft Edge is resolved.
2 – Battery Usage
"The Microsoft Edge team measured the time it took identical surface book laptops to run fully through their batteries while streaming HTML5 video in fullscreen," a page on GitHub explains. "The test was done with Windows build 17763 [version 1809] and connected to the internet through Wifi [sic], and multiple samples were taken."
Microsoft Edge provided a 24% better battery life over Google Chrome on average. While playing videos on Edge battery lasted for over 16 hours, on the other hand, Google Chrome consumed in 13 hours. In Windows 10 1809 version, Edge provides better battery performance than Chrome.
3 – User Privacy
Privacy is the key concern of all users, Microsoft Edge built on top of the Chromium open source project which is core to Google Chrome. Which provides well-tested security to its users.
Microsoft Edge is a lot more secure for your business than chrome in Windows 10. You don't need any additional software or app to achieve your secure baseline.
Edge is providing very tight security against phishing, malware, and virus attacks.
4 – Design
Although both browsers are built on the same chromium open-source browser, the design of both browsers is slightly different.
The edge's old school elements are gone replaced with a clear interface and rounded edge. Icon and arrow buttons are much different in both browsers but the search bar is almost the same. If you are previously using chrome then switch to Edge will not affect you more, besides the default search engine bing.
5- Features
Edge has some features that Chrome doesn't e.g. Edge has a collections option where you can save similes webpages and name them. The verticle tab option will provide you a lot of different browser style,
The price comparisons, automatic profile switching & web screenshot capture tool will help you a lot while browsing.
6 – Syncing
Edge can handle syncing flawlessly, provides you almost seamless functionality between your laptop, iPad, and phone.
Edge can synchronize just about every aspect of the browser across systems. Its list is exhaustive, including everything from passwords to bookmarks to history.
7 – Extensions Provided
Bothe Edge and chrome provide almost the same extensions but Edge has an edge over chrome in the aspect of extensions because of Microsoft. The extension provided by Microsoft can work easier, safer, and more productive with Edge.
8 – Market Shares
As of June 2020 Google Chrome holds the top position in web browsers with a 70% market share. Mozilla Firefox is on 2nd with 8.5% of market share, Microsoft's Edge holds the third position in just six months with 4% of market share.
It's very impressive that in just six month Microsoft edge got the third position maybe after six months Edge will replace Firefox and will get the second postion.
9 – Time-Saving
Microsoft Edge is going to provide a smart copy feature that helps you to save a lot of time while copying your date from the web. By using Edge you can copy exact content from the browser without copying extra text and pictures.
10 – Speed
The right management of RAM enhances the speeds of browsers. The main difference between both browsers is the usage of RAM. In Chrome, it's higher than Edge, which makes Edge much faster than chrome.
With so many advance features and improvements in speed, the Edge is more suitable to Windows users then the Chrome. After reading this post we are confident that now you can easily decide between Edge vs Chrome.