The hard drive is fixed long-term storage in your computer to install an operating system and to store your personal files and application. But you can also use an external USB Flash Driver as a Hard Drive having a different operating system installed on it.
If you are using Windows operating system on your PC and you want to try some different operating system o your same PC without losing your data and setting in Windows. You can install a different operating system e.g Linus-ubuntu on your USB Flash Device and use this Flash Device as a Hard Drive.
To use a USB flash drive as a hard drive first you have to change your USB to "fix storage device" by altering the USB's firmware.
There are many methods available on the internet, but those methods are much confusing and difficult to understand. Below we have mentioned one of the best and easy methods to change your USB firmware and make it a Fixed storage Device.
How to Make Hard Drive from a USB Flash Drive?
Windows recognized USB Flash Drive as a Removeable Media or SD Card Storage that can't split into different partitions to Install an operating system. We have to change USB firmware first to use it as Hard Drive. Lets Starts
Flip Removable Bit with Lexar BootIt Utility Tool Download
Download Lexar Bootit Utility, This is a USB configuration tool that is designed to create bootable USB drives also called bootit lexer utility or lexar boot it utility download which is also available as lexar bootit скачать. click the link for Lexar bootit download.
Connect the USB Flash Drive to your PC and run the Lexar Bootit Utility.
Next to "Partition" click the "Active" button then click "Flip Removable Bit" to convert your USB drive into an HDD.

On the "Start" by right click, then click "Explore". Once the process is complete, Remove your Flash drive from your computer, then reinsert it. Your USB is ready now.
You can check your device by right-clicking on it. It should appear as "Fixed Disk" or "Local Disk," rather than "Removable Disk."
How to Install Linux-ubuntu on USB
To Install Linux-ubuntu on USB (you have Just changed to the Fixed Storage device) from a CD or DVD or download ISO file of Ubuntu. First, you have to change your system boot order from BIOS.
1 – Change the Boot Priority.
To install ubuntu from the cd change the boot order. open the boot menu from the system bios and bring the CD- ROM Drive on top, then Removeable Devices on second and Hard Drive on Third, see details in picture bellow…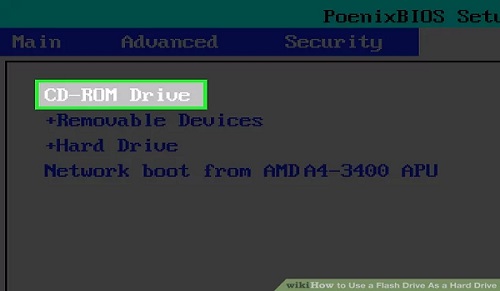 2 – Install the ubuntu operating system
After changing the system boot order, connect the flash drive with your system and insert the Linux-ubuntu CD or DVD into your CD/DVD Drive and reboot the computer.
Tip: Remove your hard drive from your computer to protect your data and setting installed on your hard drive in case of the system not detect the attached flash drive.
Follow the prompts from the installer to install Ubuntu. Select the location on your USB flash drive where you want to install new ubuntu OS.
3 – Boot from Ubuntu Installed on your USB Drive
Plug your USB into your computer and turn it on to boot into Ubuntu. Your system will use to=he operating system installed on your flash drive.
When you need to boot from the operating system installed on your hard drive just remove your USB flash drive and reboot your system.