Want to create videos for your product advertising, brand awareness, or YouTube channel? You don't need to be an expert to create professional-looking videos for your business. Invideo online videos creating tool will enable you to create beautiful videos for your brand simply using pre-made templates.
Invideo is a powerful web-based video editing tool that comes with a lot of amazing features to create professional-looking videos instantly.
This online video maker includes hundreds of rich and dynamic pre-made video templates, and an extensive stock footage library, complemented with plentiful animated elements encompassing text animation, overlays, intros/outros, and millions of elements.
Create Slide Shows, Business Presentations, Invitations and wishes, Offers and discounts, Video Collages, Webinar Promos, Quote Videos, Video Testimonials, Products Video Ads, Brands Essentials, Long Fram ads, Branding Templates, Intros, and Logos for your brand.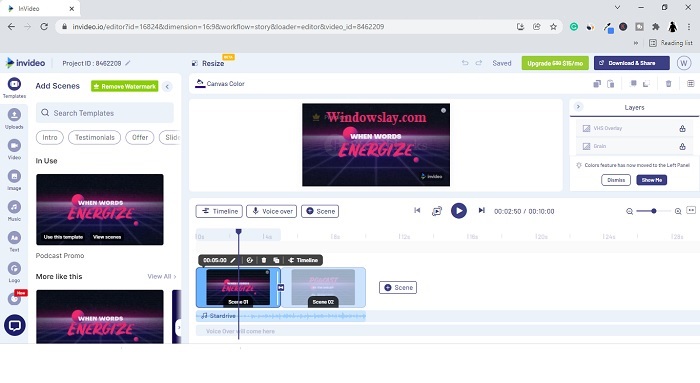 Invideo
Online Video Maker & Editor
Invideo Video Maker Review [year]
The Invideo comes with some really cool features. There's are tons of stock images music and video clips available in this tool from where you can grab music, stock images and short clips to use them in your videos.
Furthermore, you can also record your voice-over to add your narration or audio in any part of the video that you want. Likewise, you can add and edit the text to help audiences understand your video content better.
Invideo also helps you to position your text blocks, and text animations to adjust the time frame from when the text should appear and disappear on a scene. Change the text color and font size to make your content more attractive to the audience. Furthermore, you can add your custom watermark to your videos and brand them. It's super handy.
Create High Resolution Videos
This online video editor tool helps you to create HD videos up to 1080p. You can also download your videos to 720p and 480p. Transform photos into videos and download high-quality HD videos for Your YouTube channel.
Convert Articles into Videos
If you have a blog and you want to create videos from your articles, Invideos allows you to make beautiful videos. Make videos from articles and share them on social media to drive more audience to your blog.
Copy the article and paste it into Invideo online video maker tool and Invideo will create videos slides from your articles quickly for free.
No Installation Needed – Just Login
Invideo requires no installation, you can use this online video maker by simply log-in with your Facebook or Gmail ID. You don't need to download and install any software on your PC. You can use Invideo using your Web-browser for free.
Is Invideo easy to use?
You don't need not be an expert at making videos, Invideo makes it super easy for you to work your way. It allows users to create videos online straight from the internet browser. You don't have to learn the ins and outs of this software.
You can simply upload images and videos from your computer and customize them online to create a professional-looking video for YouTube. You can also add text, videos, and voice-over to fully edit and customize your content. After finishing a project, you can simply download what you made and share it online with the world.
How to use Invideo?
This online video editing tool is super easy to use. You can make a stunning video in just 3 steps:
Upload Media: Add photos or videos from your computer or use stock libraries.
Customize: It's an important part add text, music, voiceover, Gifs, or adjust speed.
Export: Once you are done download your custom video in high HD resolution Or share it online with your loved one.
Invideo Pricing: Free VS Business Vs Unlimited Subscription
All Invideos business and unlimited subscriptions come with a full iStock media library which saves you a lot of money. Here are the prices for Invideos subscriptions.
Free Version: The free version provides 15 minutes video duration for each video with a Watermark. You will also enjoy using 5000+ video templates, a standard media library, and a Text to speech tool in the free version.
Invideo Business: The Invideo business plan costs you $15/month (Billed $180 annually) with no watermark on videos. You can use 10 iStock media per month, 1M+ Premium Media, and 60 video exports per month. You can also add your custom watermark to your videos if you subscribe to the Invideo business plan.
Invideo Unlimited Subscription: This one comes with a plan of $30/month (Billed $360 annually) with no watermark on videos. You can use 120 iStock media per month, 1M+ Premium Media, and Unlimited video exports/month.