Whenever a new content patch rolls out, new and returning Fortnite players come running back to try out everything Epic Games introduced to the game with the latest patch. Mostly during the start of new seasons, the number of players can overwhelm the servers and cause players to experience server-related errors that prevent them from playing Fortnite.
Getting stuck on the connecting screen is a common bug that's generally related to servers going down due to huge influxes of players. Though the error appears for PC players more often, there have also been instances that the error has also shown up for console players.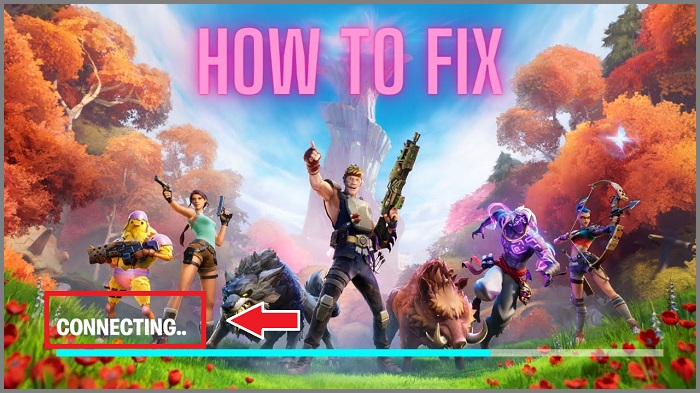 Considering getting stuck on the connecting screen is a bug that usually happens due to server-side problems that occur on Epic's end, you may need to wait it out in most cases. It can also happen due to connectivity issues that may arise on your hand, which you can troubleshoot by applying the fixes on our list.
Here's how you can fix getting stuck on the connecting screen bug in Fortnite.
Check if the servers are down
If the servers are down, your hands will be tied. It'll be up to Epic to fix its servers, and you won't be able to fix the connecting screen bug by applying any of the traditional methods. To save time and effort, you should check how the servers are doing before trying to fix the error by yourself.
Epic has a server status tracker which shows the current server status for all Epic services alongside past logs. If Fortnite or the Epic Games Games launcher are down, you'll need to wait for Epic to roll out a fix.
When there's a server-wide bug or error that's affecting a decent part of the player base, Epic often updates the players through Fortnite's Status Twitter account. If you'd like to be one of the first players to get into Fortnite after an error or bug gets fixed, you should keep an eye on the Fortnite Status Twitter account.
Alternatively, community hubs like Reddit can be your second stop. Whenever a wide-spread error occurs, players usually take it to the forms first to see whether others are experiencing the same error as them. Depending on the situation, you can also find alternative fixes on one of these threads since most players will be sharing the potential fixes that worked for them.
Restart Fortnite
You can still get stuck on the connecting screen even when the servers are online. The chances are you may have gotten unlucky on your first try, and a simple restart may be enough to get you back into Fortnite.
Restarting your game will allow you to get a second shot at connecting to Fortnite's servers. If you successfully log into Fortnite after restarting the game, it could mean that you just stumbled upon an overloaded server on your first try, meaning it was probably a one-time thing.
Troubleshoot your home network
If the servers are up and you're still getting stuck on the connecting screen, you may want to troubleshoot your home connection.
Start by restarting your router and gaming device. Restarting your router will allow you to troubleshoot any possible hiccups that may have occurred on your internet service provider's (ISP) end. Your ISP handles all the routing between you and Fortnite's game servers and restarting your router will allow you to reestablish those connections. While you're restarting your router, you should also do the same for your gaming device, just to check two boxes at the same time.
Reinstall Fortnite
The methods above cover all bases when it comes to connection-related bugs or errors. If none of them work, you can also try reinstalling Fortnite just to make sure that you don't have any corrupted files messing with your experience.
If you started getting stuck on the connecting screen after moving your game files or installing a new storage device, then you should benefit from reinstalling the game. When all files are fresh off the oven, the chances of you running into a software-related bug should be close to a minimum.
Wait out the error or send a support ticket to Epic
If everything you've tried wasn't able to fix the bug for you, the chances are something is wrong with the servers and you'll need to wait for Epic to fix them. Players who would like to have no downtime from Fortnite can use this time to learn more about the game. Taking time to learn more tips and tricks about Fortnite will be more beneficial than actually playing the game and when the servers are up, you can test the new tricks that you've just picked up.
In cases when it takes quite longer than expected, you should consider sending a support ticket to Epic. Mention all the troubleshooting steps you've tried to fix this bug and provide screenshots in your tickets. A support associate should take a look in your case within a couple of business days and come up with a plan to solve the bug. You may get a list of additional troubleshooting methods or Epic could roll out a small patch if there are too many players reporting the same bug.
Players are reporting Fortnite is down with many stuck on the connecting screen. Here's the current server status
Fortnite season 1 in chapter 3 launched on Sunday after the start was pushed forwards after Epic Games themselves accidentally leaked the Battle Pass trailer after asking leaders not to post any leaks during downtime.
Although players are happy with the new map with both new and old locations and three different biomes, the game has been plagued with a bunch of different issues that still haven't been fixed.
Players can't build near certain trees, lag seems to be an issue for some players but worst of all, players are having a hard time even getting online to play the game.
When the season launched, there were server issues that led to Epic adding a queue to help manage the number of players trying to log in and play the new chapter. However, there were still issues once the queue timer went to zero.
After that was addressed, there were issue with players getting a white screen when logging in. This was a widespread issue but a fix was implemented within an hour. Now, there are more server issues
Stuck on Connecting Screen in Fortnite
Fortnite is currently down on December 7th, 2021. The issue now is players being stuck on the connecting screen. It's an issue Epic Games are aware of and are currently looking into.
In a tweet on the official Fortnite Status account, Epic stated they are investigating login issues to the game and will keep the community updated when the issue is resolved.
There are nothing players can do to fix the Fortnite connecting screen issue. You'll need to wait until the server issue has been fixed. We'll update this article when the Fortnite servers are back up as it seems like they're down for almost everyone.
Fortnite Status
We'll update this for the status of the Fortnite servers.
Status: Servers are back up!
Fortnite stuck on the loading screen or Fortnite not loading into the match is usually caused by a network issue or a software glitch.
When this occurs, you are no longer able to join the matches and the game does not load on connecting.
As a result of it, Fortnite skins do not show up or maybe you only see default skins in Fortnite PC.
If Fortnite stuck on connecting screen or Fortnite not loading into the game PC, then do the following.
Note: The steps are almost the same
Check if the servers are down
Restart Fortnite
Troubleshoot your home network
Reinstall the game to fix can't load into Fortnite
Why is my PS4 not connecting to Fortnite?
Servers going down, or connection issues, or system-wide issues can be the factors for Fortnite not opening on PC or stuck on the screen. Hence, you will not be able to connect to the Epic Games Launcher.
How do I make Fortnite update faster on ps4 2021?
Some possible solutions to fix Fortnite not responding on the loading screen:
Close the game and all other applications
Put the console into Reset Mode
Move the console close to your Wi-Fo router or use the ethernet cable
Change your DNS settings: Go to the Network settings and choose to set up your DNS manually.
Input the Primary DNS as 8.8.8.8 and the Secondary DNS as 8.8.8.4. This will connect you using Google's public DNS and help speed up your Fortnite download.