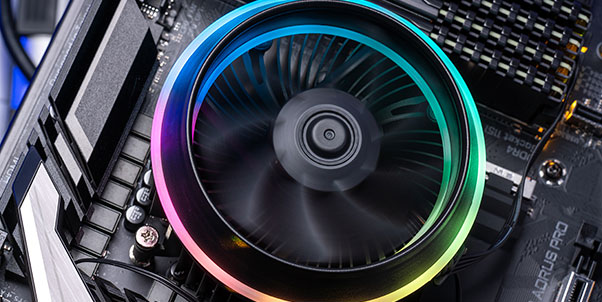 No doubt SpeedFan is the best CPU temperature monitor. This small utility comes in handy when it comes to monitoring the system's temperature or manually controlling PC fan speed. But from time to time users complain that SpeedFan does not detect CPU temps, CPU fan, RAM, GPU on Windows 10.
These are common problems that most users ask on different forums and face difficulties finding the best solution to fix SpeedFan not detecting or showing anything.
Here in this post, we have gathered the most common complaints and their solution that users have asked which includes;
Speed Fan not detecting fans
Speedfan not working
Speed fan not showing fans
Speed fan not changing fan speed
Speed fan not detecting CPU temps
SpeedFan not detecting CPU fan
Currently, SpeedFan 4.52 is the latest version for Windows 10 PCs. As compared to the Argus monitor or any other fan controller software, it is the most reliable program that easily monitors and control PC fan speed.
Due to the release of the latest Windows 10 updates or in the presence of other monitoring software causes SpeedFan not to detect problems in Windows PC. After applying the below fixes you can easily solve SpeedFan problems once and for all.
Fix Speedfan not Showing CPU fan speed on Windows 10 & 7
If Speedfan doesn't work on your computer and you have tested it by increasing fan speed but no result. Then try these troubleshooting steps before that make sure that SpeedFan support your motherboard;
Open Speedfan and click on the configuration button then go to the Advanced tab.
Here you will see the chip just click on it to choose your motherboard. It will reveal your motherboard info.
Now choose PWM 1 mode and click on Set to from the bottom right and select "Software Control"
Repeat the same steps with PWM 2 mode and PWM 3 mode.
Click on the OK button. Now try to increase CPU fan speed by clicking on the UP arrow. You will see an increase in Fan RPM speed.
Fix SpeedFan not Detecting CPU Fans
Many users complain that when they run SpeedFan it won't show CPU fans. This utility has a built-in feature to detect and display CPU and case fans. If this program is unable to show them then make sure you have installed the latest version of SpeedFan as well as system BIOS.
After updating them make sure that the motherboard is fully compatible with this fan control cum system monitoring utility. To check whether your motherboard has the required chip click on this link.
After that, go into BIOS settings to bypass the CPU fans. In BIOS under the Power tab, you will see the setting for ACPI suspend type. Change it from S3 to S1 and save the changes as a custom default.
Then press F10 to exit from BIOS. It should resolve the Speed fan not detecting fan problems.
Fix Speed fan not changing fan speed
Some users say that their CPU is overheating but the fans won't speed up to cool it down. Now simply installing SpeedFan on Windows PC and pressing the UP arrow will not increase your PC fan speed. For that, you have to configure your PC.
Just click on the Configuration button and then on the Advanced tab.
Now select your motherboard chip from the drop-down menu.
Here you should be able to see PWM 1 mode, PWM 2 mode, and PWM 3 mode.
Click on any one of them and set it to Software controlled.
Tick the remember it box and hit OK.
Now if you click on the up or down arrow button, your PC fan speed will change accordingly.
Fix SpeedFan not Detecting CPU Temps
Old motherboards don't have temperature sensors placed on them that help temperature monitoring programs fetch data when internal heat goes up.
On the opposite, your motherboard may be compatible with SpeedFan but still not showing CPU temps. In this case, follow these steps:
Go to charts and from the drop-down menu click on temperature. Make sure everything is checked within the charts tab. Now go back to the reading tab and you will see core temps.
SpeedFan not Detecting GPU temps or GPU Fans
As the race for the latest and more sophisticated GPU has started among NVIDIA and AMD. The new models of graphics cards have advanced technology that's why Speedfan won't perform much.
Besides this utility is not meant to monitor GPU temperature rather it shows hardware info and PC fan speed. You can download MSI Afterburner or Kombustor to monitor GPU temps.
SpeedFan Error! Not Starting at all on Windows PC
While there are some users who only complain that SpeedFan's specific feature is not working. There exists a class of users who complain that when they try to run this monitoring tool it won't run. The error shows up
"' The service cannot be started, either because it is disabled or because it has no enabled devices associated with it'"
If you are dealing with such an error then follow these steps to fix it.
Find SpeedFan shortcut on the desktop
Then right-click it, choose properties
At the end of the target field, add /NOACPISCAN
Press OK
Now restart your PC and see if the error is still there.
Simple Fix for SpeedFan not Working
If the above fixes don't work for you then try to uninstall SpeedFan and then reinstall it. Also, make sure that your BIOS is fully up to date. Plus you need to check your motherboard compatibility with SpeedFan software.
If all go green then you should be able to solve any problem that you may face using SpeedFan.
However, it's not the end of the world, you can always choose the best CPU temperature monitor. There are other tools that can change fan speed just like SpeedFan. You can also check your CPU temperature.
This is how we fixed the SpeedFan not detecting anything problems on Windows 10 and 7. If you have any thoughts then post a comment.