Message+ is Verizon's popular SMS (Messaging) app. Verizon's Message+ app comes with many interesting features as compared with the pre-installed messaging apps on your android phones.
This is an alternative messaging app that allows the synchronization of your messages between multiple devices. However, recently many users have encountered problems when using this application.
Message+ started to crash over and over again and making the app almost unusable. This article explores this problem in-depth and provides a solution to fix it.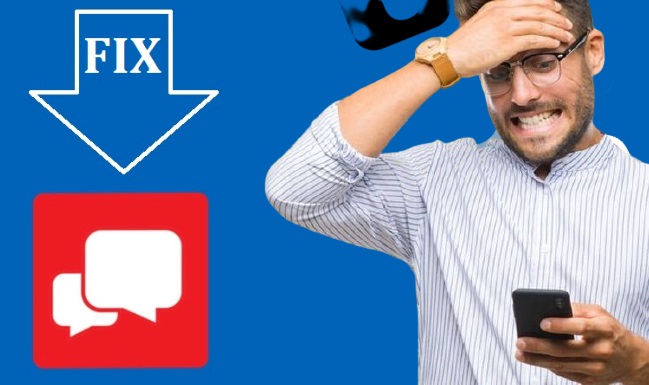 ◙ Introduction to Verizon Message+ Crashing Error
Verizon Messages plus, also known as Message+, is specially designed for android to send and receive messages through the Verizon network, and it works like other messenger apps pre-installed on your phone.
Verizon Messages+ is released together with Android 4.2 Jelly Bean. Later, the application was re-released with Android 8.0 Oreo and later renamed Message+. However, the names Message+ and Verizon Messages can be used interchangeably.
As the name suggests, Android Message+ provides features that were not available in Verizon's previous messaging app. The biggest selling point of Message+ is that it allows users to synchronize messages between multiple devices.
If you are an Android user, or you have a tablet, and one or two Windows PCs, you can sync your phone messages with all devices for easy access. However, this is not the only Android Message+ functionality. Message plus also enables you to make calls using tablets with its default calling feature.
Message+ also includes some additional features like Yahoo Media Search, Kanvas, Glympse, etc. In addition, this app also supports location tracking and driving mode.
Message+ plus App has several advantages that make it a useful application for android users. Message+ android app is also supported on many platforms, it provides additional options and Wi-Fi support.
It provides messages synchronized option between devices and gives a very effective communication platform. Keeping all these features in mind, it's no wonder why Message+ thousands of users and why many of its users are frustrated when this application does not work, stop or crash.
How to Fix Message+ keeps stopping error?
If you also facing Messages keeps stopping Android device error, Follow our troubleshooting guide to fix messages keeps stopping Android.
Android Message+ Crashing is prone to problems. Recently, many users have started to experience issues with the Android version of Message+. When they try to open the app and try to attach a contact or file to their message, the app crashes. In some cases, the app crashes randomly when reading text messages at random.
Due to errors and malfunctions, Verizon's Message+ Crashing may start on your android or iOS device. When the program is installed incorrectly, a system error usually occurs. An application may be installed incorrectly because it was installed when you encountered a network problem, or the application was installed from a third-party vendor.
However, since an application requires a certain amount of storage space to run normally, it usually stops constantly because your device's storage space is full.
In addition, it may crash due to application cache issues and software issues related to your Android smartphone. Many users reported that the app crashed when trying to access and received a "Message+ keeps stopping" error message.
If Messages keeps crashing for you, the first thing you should do is restart your device, because a simple restart can usually fix errors and malfunctions. If restarting the device does not work, we invite you to use the troubleshooting solutions provided below.
◙ Solution 1. Clear Cache and Data Message+
Clearing the Verizon Message+ app's cache and data should fix the "Message+ keeps stopping" error. Corrupted cache and data as well as incorrect settings may be the reason for the application not working properly. Please refer to the steps below on how to clear Verizon Message+ cache and data.
On your Android device, go to Settings> Go to apps > Scroll through the list of installed applications and open Message+, and Click Storage.
Tap to Clear the Cache. > Then, click to Clear Data. > Choose Delete.
Go back to the list of installed apps and Tab Google Play Store. > Tab on Storage.
Tap on Clear Cache. > Click again to clear the cache.
Finally, click to Clear Data. >Choose Delete. > then Restart your Android device.
14.Press and hold the power button and click to start again.
Click Restart to confirm. That's it!
◙ Solution 2. Update the Message+ App
Message+ may start to crash because it is out of date. Therefore, the easiest way is to update the application using the Google Play Store. Updating Verizon Message+ to the latest version will clear all errors in the app. See the steps below on how to do this.
Open Google Store. > In the search box, enter Message+ or Verizon Message and click the magnifying glass to search for the application.
Select Verizon News. > If an update is available, you will see the Update button instead of the Open button.
Click the Update button and wait for the app to update.
◙ Solution 3. Reinstall the Message+ App
If you are using the Verizon Message+ APK, you may need to uninstall the app and download it from the Google Play store. Since there are multiple ways to uninstall apps from Android devices, we provide a method that works on all Android devices.
On your Android device, go to Settings. Go to Apps. Scroll through the list of installed applications and open Message+. >Click Uninstall.
Then, click OK to confirm.
Then, go back to the home screen and open the Google Store.
In the search box, enter Message+ or Verizon Message and click the magnifying glass to search for the application.
Click the Install button to install it again.
◙ Solution 4. Update the Android Operating System (OS)
Generally, Verizon Message+ and device firmware are not compatible with each other. You can resolve compatibility issues by updating the operating system of your device. Check if there is an update for your device, then download and allow your device to install it. Here is a guide on how you usually do this:
On your Android device, go to Settings.
Scroll down and click Software Update.
Then, click to download the update manually.
Allow the device to download and install all pending software updates.
◙ Solution 5. Perform a Factory Reset (Restore your phone)
Performing a factory reset on your Android device will delete any apps, messages, and other data and information you may have. Therefore, you should create a backup of all data before proceeding.
On your Android device, go to Settings. >Scroll down and click Integrated Management.
Then, click Reset. > Click to restore factory data.
Note: The restoring factory settings will erase all data on the device.
Then, click Restart.
Click to delete all, and your device will be reset.
The Message+ keeps stopping issue can occur in any device due to several reasons. However, in most cases, the above mentioned methods, clearing the app cache, data and to reinstall the app resolved the crashing problem. The Restore Factory Setting is the final option that you have to use in very rare cases. Thanks